If you love the simple joys of bicycling and are looking for endless miles of safe and modern bike paths, look no further than the Netherlands. They have developed one the most advanced bicycle-based transportation systems in the world! The Dutch have created a "dream come true" experience for bicycle tourists who want to spend their holiday on two wheels and feel safe while doing it.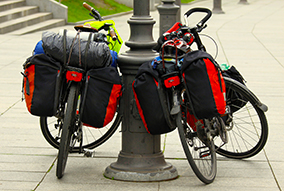 This is not a typical Dutch travel site. It was designed specifically for the adventurer like you who wants to self- manage their own bicycle holiday experience to the Netherlands from the USA. We hope to help fast-track your planning decisions by sharing our personal experiences and perspectives.
Perhaps you're seeking an active vacation away from work, or want to introduce your kids to a new life-changing experience, or you may be someone in a public policy position who wants to learn from the Netherlands to bring a more bike-centric culture back home. Whoever you are, we are convinced you will come home a more passionate bicycle ambassador.
If you are a sports bike enthusiast, this may or may not be the adventure for you. But if you are willing to slow down, strap some panniers to your bike, wear everyday clothing and leave your helmet at home, we promise you will enjoy the ride!